Roose
Furness Abbey, close to the railway line between Barrow and Dalton.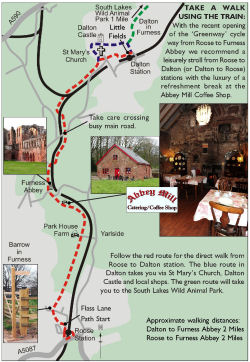 Click on image for larger map of the walk
Roose, also sometimes known locally as Roosecote, is a suburb of Barrow and the name has Celtic origins meaning "huts on the moor". The settlement is recorded as far back as AD 945 but most of the buildings now date to the nineteenth and twentieth centuries.

Roose station is now a simple stop, with two glass shelters, mostly used by commuters and people going shopping in Barrow or further afield.

There is a walk from Roose station to Furness Abbey and on to rejoin the line at Dalton station. The whole walk is 4 miles/6.4 km long and the route remains close to the railway while including Park House Farm, Abbey Mill (coffee shop), Furness Abbey, and St Mary's church and Dalton Castle in Dalton. Further details are available from FLAG.