Lancaster
The River Lune and Lancaster's historic quayside. Photo by Jon Sparks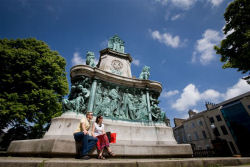 From the towering ramparts of the castle and quiet calm of the priory across to the domed Ashton Memorial and Williamson Park, Lancaster just begs to be explored. A walk through Lancaster and a visit to the City Museum and Maritime Museum (on the quayside) enables you to discover more of this ancient town. The Judge's Lodgings Museum houses a fine collection of Gillow furniture and its elegant rooms recreate life as it was in the 18th century. The City and Regimental Museums, located in the former Town Hall in Market Square, have a wealth of material from the area's rich and varied past, including its periods of Scottish occupation. Lancaster's Market Hall sells everything from organic carrots to picture frames, and a traditional street market operates on Wednesdays and Saturdays.

The city of Lancaster dates back to Roman times but much that can be seen now shows the importance of the city in Georgian times. Lancaster district also has two of the best Anglo-Viking sites in the North West, at Halton Church and Heysham. Lancaster was a thriving port and was later served by the Lancaster Canal, connecting the city with Preston and Kendal, and then by the railway giving the city direct train services to London, Manchester and Scotland. Later still came the M6 motorway.

Lancaster has continued to develop with its universities and growing tourist economy which includes the nearby resort of Morecambe and the market town of Carnforth. The area has much to offer including festivals and a lively arts scene including The Storey, and the Duke's and Grand theatres. For wonderful views across the bay to Barrow or to watch the sun setting across the sea, take a trip up the hill to the Ashton Memorial in Williamson Park.

Lancaster railway station is just 300 metres from the Visitor Information centre, located in The Storey on Meeting House Lane. Taxis are available at the western side of the station and there is one connecting bus. The station is accessible and is a main connection point for long distance trains to Manchester, Birmingham, London, Carlisle, Leeds, Glasgow and Edinburgh. Local trains serve Morecambe, Windermere, Barrow and Preston.

Lancaster's Visitor Information Centre not only carries information about the city but also for a wide area around the bay.