Lancaster Castle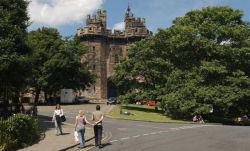 Lancaster has a long association with armies and castles. The name of Lancaster comes from Lanecastrum (1094) referring back to the Roman forts that once occupied castle Hill. The Norman castle was built within the ruined walls of the last Roman fort and has been expanded during the following centuries.
Lancaster Castle is owned by Her Majesty the Queen, who is the 'Duke of Lancaster'. As well as being a fortification the Castle is also one of Europe's longest serving operational prisons. Amongst many alleged witches to be brought to Lancaster, the most famous were the Pendle Witches, who were tried, convicted and sentenced to death here in 1612. George Fox, the founder of the Quaker movement, was imprisoned in the Castle for 2 years.
The Grand Jury Room includes some superb Gillow furniture, whilst in the Crown Court the branding iron can still be seen. Many prisoners convicted at the Castle's Assize Courts were sentenced to transportation to Australia. Visitors can experience briefly what it's like to be locked in the ancient dungeons.
In the Shire Hall is a magnificent display of heraldic shields. Open daily for guided tours from 10.30am until 4pm (Court sittings permitting). Closed Christmas/New Year. Visitors to Lancaster Castle are advised to check opening times by telephoning 01524 64998.